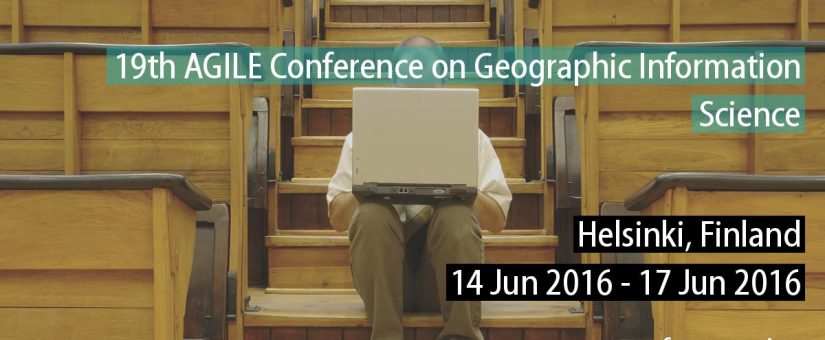 Next week, GEOTEC staff will attend 19th AGILE Conference on Geographic Information Sience and workshops, the European annual event for Geographic Information. This year's motto is "Geospatial data in a changing world" (https://agile-online.org/index.php/conference/conference-2016)
AGILE 2016 will be hosted by Finnish GIS laboratories, and it will take place in Helsinki, Finland, from the 14th 'til 17th June.
The program will offer parallel paper presentation sessions, keynote sessions, poster sessions and pre-conference workshops to share ideas, explore on-going research, future developments, including state-of-the-art applications, and to network with the professionals from academia, industry, and government who are interested in promoting GI teaching and research activities among GI laboratories at the European level.
 GEOTEC staff will participate in the 3rd edition of
pre-conference workshop Geogames and Geoplay
(
http://www.geogames-team.org/agile2016/
) with two contributions "A biking geo-game to gather commuting data" (Diego Pajarito, Michael Gould, Ignacio Miralles, David Frias, Aida Monfort) and "Are you a smart citizen? Try City Balls, if you dare!" (Francisco Ramos, Joaquin Pereira).
A poster by Francisco Ramos, Joaquín Huerta and Aaron Gómez was also accepted for being presented during the Conference "PicFeel: merging geolocation pictures and emotions"
We will come back with geo-fresh ideas to develop and implement!
Posted by geoadmin
On 10 June, 2016
0 Comments