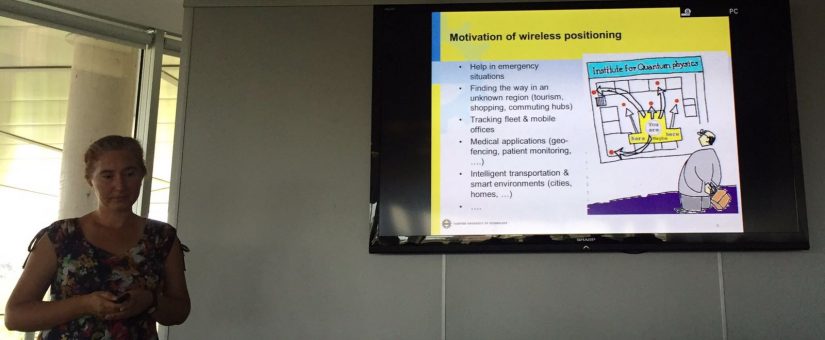 On July 18, we enjoyed the visit of Professor Simona Lohan, from Tampere University of Technology (TUT), Finland. She leads the Signal Processing for Wireless Positioning (TLTPOS) group. The group belongs to the Laboratory of Electronics and Communications Engineering (ELT), where other groups also work on positioning-related subjects. Professor Lohan came in response to our invitation to strengthen ties and look for new lines of collaboration. For this reason, she gave a talk titled "Seamless Positioning Experiences at TUT".
The talk summarized their studies devoted to seamless positioning during the past 5 years (actually, their work on positioning spans for more than 10 years). The studies addressed GNSS approaches and non-GNSS (signals of opportunity like GSM, WiFi, RFID and BLE). The presented GNSS approaches included studies and improvements related to the Galileo constellation and other studies addressing the benefits of multi-constellation methods. The presented non-GNSS approaches focused on efforts for power-based techniques for indoor positioning, and included compression methods for mobile-centric approaches, crowd-sourced approaches, and privacy concerns in indoor positioning.
The talk finished by exploring their current collaboration (with many academic and industry entities, mainly in Europe) and by making specific proposals for collaboration with us. After the talk, our group and Professor Lohan have mutually agreed that the collaboration lines are promising, and we established specific working paths. We sincerely thank Professor Simona Lohan for her kind visit.
Posted by geoadmin
On 25 July, 2017
0 Comments