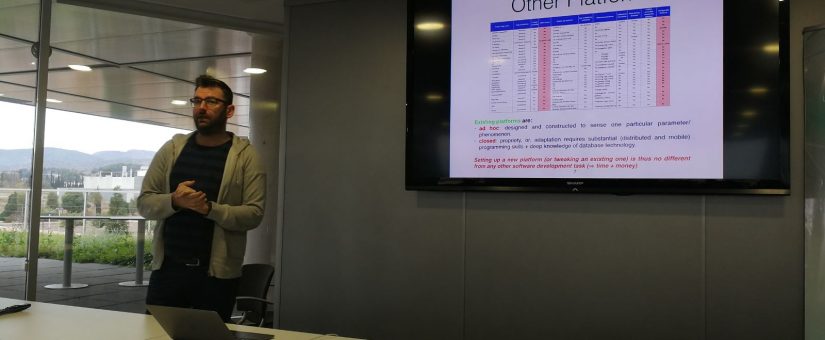 In the week of 27/11 – 01/12, Prof. Dr. Wolfgang De Meuter (http://soft.vub.ac.be/) visited GEOTEC in the context of the GEO-C Phd program. Wolfgang leads a programming languages lab in the Vrije Universiteit Brussel (Belgium), where they are investigating novel programming paradigms and techniques to address challenges in next generation software system (multi-core and cluster computing, distributed systems, sensor-based computing, rich internet computing, etc.), and apply them in current and future application domains, such as internet of things, cyber-physical systems, big data applications, participatory sensing, etc.
The talk of Wolfgang focused on the latter: next generation participatory sensing platform. Wolfgang overviewed the field, from the first participatory sensing applications, which were ad-hoc made, focused on obtaining one particular type of sensing datum, and are deployed in a specific context, to the current generation participatory sensing applications, which are increasingly multi-purpose, configurable and re-usable. From his background in software and programming languages engineering, Wolfgang explained his vision on 2nd generation participatory sensing platforms, and how the use of a combination of advanced programming paradigms (meta-programming, distributed programming, reactive programming) and cloud technologies are particularly useful to realise such systems. Wolfgang's lab put theory into practice, and applied these techniques in various national projects, with as a results a full-fledged participatory sensing application generator, usable by non-programmers to generate their own participatory sensing application.
We had a very interesting and animated talk, with over 40 attendants. Furthermore, the talk was broadcasted via live streaming using Youtube, so that GEO-C students in Lisbon and Münster were also able to follow the talk live!
Before and after the talk, Wolfgang took the time to extensively discuss, one-to-one, with all GEO-C Phd students. With some he went into the technical details of their work, with others he gave valuable strategical advice.
Posted by geoadmin
On 7 December, 2017
0 Comments