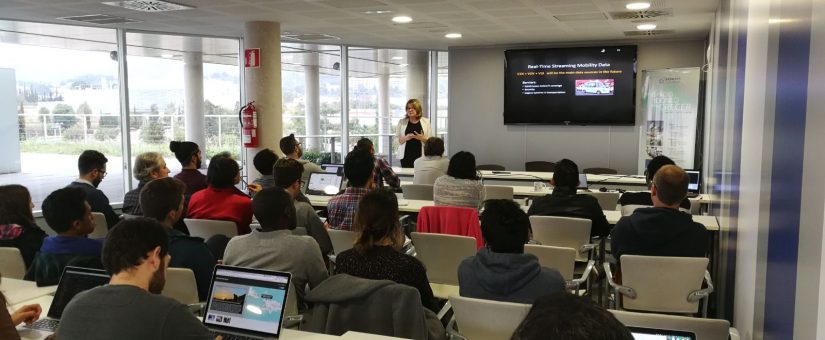 In the week of 27/11 – 01/12, Prof. Dr. Monica Wachowicz from University of New Brunswick, Canada visited GEOTEC in the context of the GEO-C PhD program. Monica leads the People in Motion lab at University of New Brunswick and holds the CISCO Systems Industrial Chair for Big Data. She works in the development of spatio-temporal analytical processes based on the discovery and mapping of human mobility behaviour through the synergy between the physical and virtual worlds of Big Data. These analytical reasoning processes that can cope with Big Data are based on interaction, context, and content discovery.
Her lecture was centered on the current challenges related to real-time streaming mobility analytics, which are built on the promise and perils of the Internet of Mobile Things (IoMT). Monica remarked that the unprecedented connectivity among billions of devices and the gathering of unparalleled massive amounts of data will pave the way for seamless ubiquitous data sensing, analytics and visualization with fog computing as the unifying technology. In this sense, the triple "edge-fog-cloud" provides a new computing paradigm suitable to address the complexity of putting IoMT and real-time streaming analytics together for mobility scenarios. The three key research challenges that researchers (including her) are facing today in developing real-time streaming mobility analytics are (1) the integration of edge, fog, and cloud computing for supporting streaming and real-time applications; (2) the development of data flow cycles for handling low latency and the wide-spread geographical distribution of IoMT devices; and (3) the analysis of massive mobility data in real-time.
We had a very interesting and animated talk, with over 40 attendants. Furthermore, the talk was broadcasted via live streaming using Youtube, so that GEO-C students in Lisbon and Münster were also able to follow the talk live!
Before and after the talk, Monica took the time to extensively discuss, one-to-one, with all GEO-C Phd students, as well as with GEOTEC member to find possible synergies and ways to collaborate in the future.
Posted by geoadmin
On 14 December, 2017
0 Comments