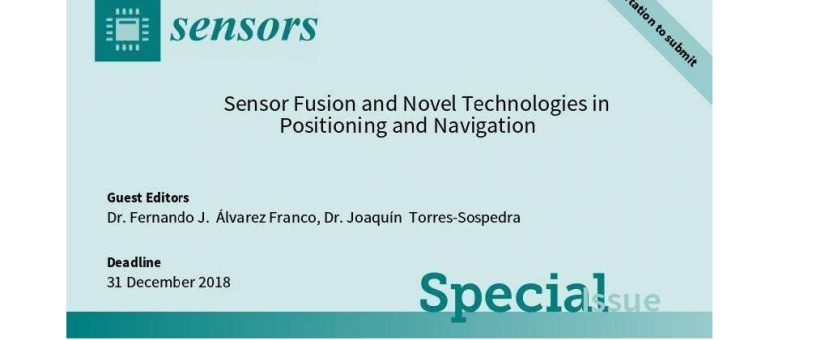 Although Global Navigation Satellite System (GNSS) has been widely adopted for positioning purposes, there is a rising interest in positioning in places where GNSS cannot operate properly. Positioning is a key issue shared in many diverse activity areas. Military applications, agricultural maintenance, autonomous car driving, pedestrian guidance, customer tracking, ambient assisted living, living in place, logistics, or drone autonomous navigation in warehouses are just a few examples of areas where positioning is crucial. Positioning covers many different environments, including crops, groves, motorways, urban dense areas, shopping malls, warehouses, local shops, and homes, among many others. This diversity and the end-user requirements make the most suitable positioning solution, GNSS-based or not, to depend on the final application.
Dr. Fernando J. Álvarez Franco (University of Extremadura) and Dr. Joaquín Torres-Sospedra (Geotec, Universitat Jaume I) are the guest editors of the special issue "Sensor Fusion and Novel Technologies in Positioning and Navigation" (Sensors, MDPI), which encourages authors, from academia and industry, to submit new research results about technological innovations and novel applications for positioning and navigation, with special interest to local and mixed global-local systems. The Special Issue topics include, but are not limited to:
– Sensor fusion
– Novel technologies
– New applications
– State-of-the-art devices
– Portable device-based
– Infrastructure-less approaches and Signals of Opportunity
– Indoor/Outdoor transition systems
– Challenges in design and deployment
– Evaluation
– Global-Local Positioning and Navigation Systems
Sensors is a fully open access journal covered by leading indexing services, including the Science Citation Index Expanded (Web of Science), PubMed/MEDLINE, Scopus, Chemical Abstracts, INSPEC, and CAB Abstracts. The latest Impact Factor for the year 2016 is 2.677, and the five-year Impact Factor is 2.964.
Posted by geoadmin
On 12 February, 2018
0 Comments