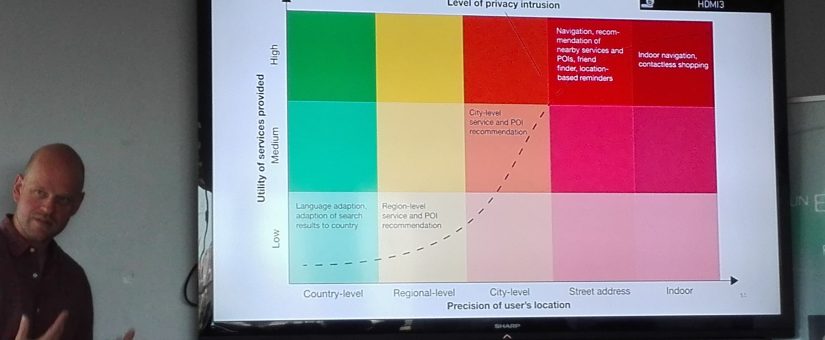 On May 28th, GEOTEC received Dr. Carsten Kessler to give an interested talk on geo-privacy. Carsten's talk was based on his recent TGIS paper (together with Grant McKenzie) entitled "A geo-privacy manifesto". Prior to looking into the manifesto, Carsten started with a couple of announcements: the upcoming GIScience 2018 workshop on Location Privacy and Security  and the special issue on Geospatial Privacy & Security 
The manifesto on geo-privacy is made up of 21 theses. The choice of the manifesto format/schema was intentional to state and reflect on the state of the art regarding geo-privacy and, at the same time, trigger as much as possible discussion in the research community. Through a fictitious use case featured by Jane and Tom, Carsten made the case that we (citizens), either knowingly or unknowingly, share location data with a dozens of services and operators in a mere single day. But what do we share exactly? Location data is typical referred to as lat/lon pairs but not necessarily; we also share place names, object names, ids, etc… that eventually have a spatial dimension or feature.
He went through each thesis, given illustrative examples and referring, when possible, to the running example of Jane and Tom. Like in the TGIS paper, all theses are grouped into blocks: spatial is special (thesis 1-7); economic value of location (thesis 8-11); safeguarding privacy (thesis 12-15); legal and ethical aspects (thesis 16-20) and the 21 which belonged to a political strand. As both his presentation and paper are well written and easy to follow, I do not reproduce the 21 theses here; eager readers are encouraged to read the original sources to learn more about them and contribute to the discussion about geo-privacy (maybe through the open special issue?). Indeed, a lively discussion followed after his talk, in which GDPR and privacy were central topics, especially in the realm of private companies and commercial location-based services.
It was great to have Carsten with us in GEOTEC. His visit was partially funded by GEO-C project
Posted by geoadmin
On 4 June, 2018
0 Comments