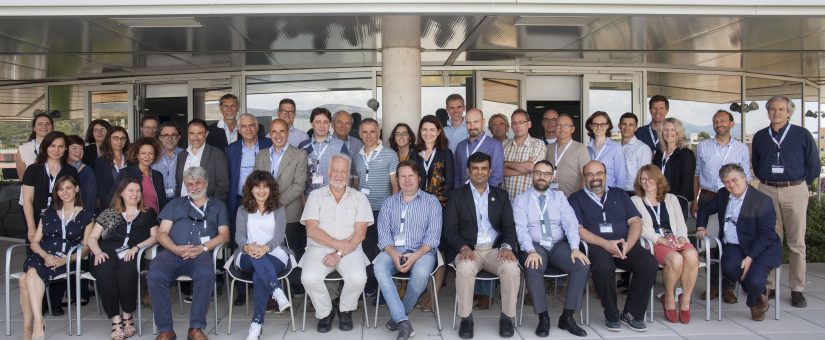 The very first results of the survey carried out in the European project Erasmus + «EO4GEO: Towards an innovative strategy for the development of skills and the creation of capacities in the geoinformation sector that supports the use of data from Copernicus» indicate that there is a demand for highly qualified professionals with interpersonal skills (soft skills) Soft skills are related to the way to communicate correctly, how to manage of a group of people and the resolution of conflicts, or how to motivate and listen to those who around us.
During three days, around fifty experts in geographic information systems, earth observation and remote sensing, among others, from all over Europe and the United States, gathered at the Espaitec II building of the Universitat Jaume I in Castellón , to discuss and contrast opinions on how to detect gaps between the professional profiles demanded by the industry and the current training offer.
The first day (30th May), a workshop on demand for space/geospatial education and training was held. During the workshop first results of a survey on the demand of professionals in this sector were presented. Once the analysis of the answers is completed, the results will be May published in the form of a report on the project website, although researchers have already confirmed that there is a need for qualified professionals in this sector.
After the workshop, a follow-up meeting of the project took place, This meeting served as an starting point for the work packages on expanding the body of knowledge on the space and geospatial sector (WP2), as well as the development of a platform of associated tools that allow companies to locate the professionals they need, among other utilities (WP3).
The GEOTEC research group, which develops its activity within the Institute of New Image Technologies of the UJI (INIT), led by Professor Joaquín Huerta, has created a meeting place to discuss these issues and bring together companies, representatives of European organizations and expert staff of international level, but without overlooking the regional or national representation, which has counted with the participation of the Institut Cartogràfic Valencià, other Valencian universities or the National Geographic Institute, among others.
The UJI is the only Spanish representative of the project in this project, and the GEOTEC research group is aware of the importance of holding meetings of this type in the Castellón campus, "not only for the fact of making our region known to people of all of Europe and America – explained Professor Huerta – but also because of the importance of transferring research results derived from projects to regional or national agents, thus achieving a direct impact on the territory. "
The next follow-up meeting will take place at the end of the year in Patras, Greece. EO4GEO remains open to the inclusion of new partners.
Posted by geoadmin
On 4 June, 2018
0 Comments