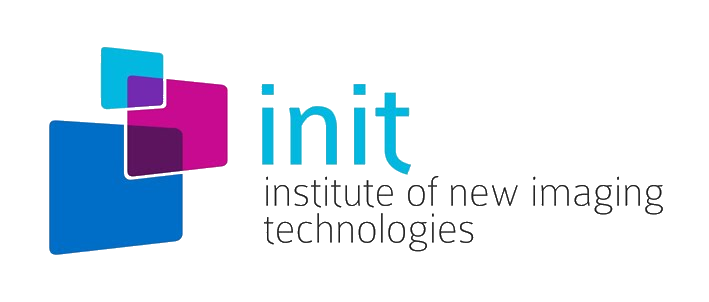 The Institute of New Imaging Technologies (
INIT
), publishes an annual call for INIT research groups to develop a proof of concept. The main objective of this call is to facilitate the collaboration between groups indise the INIT.
In 2017, GEOTEC and the Mathematical Modelling groups were selected for developing the proof of concept titled ILDUM: Indoor Location Demonstrator in the University Campus. Last Tuesday, Germán Mendoza from GEOTEC presented the results of this project.
A step further towards the incorporation of location-based services in libraries. The project was aimed to help patrons in navigating and finding materials (books, etc) inside a library. The case study was in the main library of UJI. 
Joaquín Torres
, 
Germán Mendoza
and our reserach student
Miguel Matey
worked in this project, composed of hardware (set of BLE beacons deployed at the library) and software (algorithms and mobile apps).
The project was divided in two phases. The first was centred on data collection and analysis. This included fingerprinting via WIFI and the optimisation of kNN algorithm to get only those hotspots with stronger signals, in order to enable the mobile app to perform the position estimations locally and thus avoid requests to a remote server. The second phase was related to the deployment of beacons in the building. It was a trial and error process for finding the right balance between beacon advertisement detection and battery drain.
Some tests were conducted in two areas from floors 3rd and 5th floors of the library, leading to promising results. This motivated the team to go further to the official deployment of LBS for indoor navigation and search in libraries.
Here you can see Germán's presentation PruebaConcepto2017_ILDUM


After Germán's presentation, the INIT proof of concept 2018 winner 
Ignacio Miralles
, presented the project AnyTIME: Apps to Improve Mental hEalth. Nacho, also from GEOTEC, gave an overview of the project and the main idea behind it to build location-based, game-aware mobile apps for mental health interventions. This proof of concept is going to be developed in conjunction with INIT Games group.
Big thanks to both:  Germán, Ximo and Miguel for the successful project, and Nacho for the future project
Posted by geoadmin
On 6 June, 2018
0 Comments