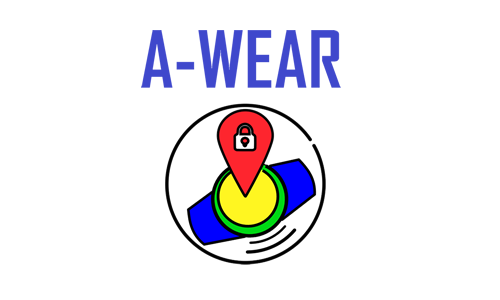 The A-WEAR European Joint Doctorate: A network for dynamic wearable applications with privacy constraints, begun in January 2019. The project joins 5 European  top-level universities in Czech Republic, Finland, Italy, Romania, or Spain, being UJI the Spanish representative.
A-WEAR aims at building new joint/double European doctoral programmes to train a new generation of young researchers in order to be aware of, to cope with, and to disseminate to a large audience the vulnerabilities and the corresponding solutions of the communication and positioning through wearables.
A call for doctoral students has been recently published. Applications are invited for 15 full-time PhD student positions (called Early Stage Researchers or ESR) for joint and double PhD degrees for 36 months. The positions are offered within the A-WEAR European Joint Doctorate action of the highly appreciated EU-funded Marie Skłodowska Curie grants (grant # 813278).
Selected candidates for ESR5, ESR6 and ESR7  will be mainly hosted at UJI. As it can be seen in the descriptions below, UJI's ESRs will be particularly working with indoor and outdoor positioning technologies, in the context of wearables.
The starting times will be during the Fall 2019. The application deadline is on 28th of February 2019. Deadline has been extended 'til March 17th The results of the selection process are expected to be announced by end of April 2019.
More information below; please check carefully the eligibility conditions at: https://euraxess.ec.europa.eu/jobs/364125
Please, do not hesitate to contact us for any further clarification at info.a-wear@tut.fi
___________________
Available Positions
‾‾‾‾‾‾‾‾‾‾‾‾‾‾‾‾‾‾‾
ESR1. Energy-efficient edge computing based gateways for wearable networks. Employer: Tampere University, Finland. Double PhD degree with Universita Mediterranea di Reggio Calabria, Italy. http://www.a-wear.eu/recruitment/ESR1.pdf
ESR2. Large-scale crowdsourcing-based wearables data gathering and processing. Employer: Tampere University, Finland. Joint PhD degree with Universitat Jaume I, Spain. http://www.a-wear.eu/recruitment/ESR2.pdf
ESR3. Privacy-aware approaches for wireless IoT localization on wearable devices. Employer: Tampere University, Finland. Double PhD degree with University "Politehnica" of Bucharest, Romania. http://www.a-wear.eu/recruitment/ESR3.pdf
ESR4. 5G and mmWave capabilities in wearable applications. Employer: Tampere University, Finland. Joint PhD degree with Brno University of Technology, Czech Republic. http://www.a-wear.eu/recruitment/ESR4.pdf
ESR5. Cloud Platform for context-adaptive positioning and localization on wearable devices. Employer: Universitat Jaume I, Spain. Joint PhD degree with Tampere University, Finland. http://www.a-wear.eu/recruitment/ESR5.pdf
ESR6. Collaborative techniques for infrastructureless Indoor Positioning Systems. Employer: Universitat Jaume I, Spain. Joint PhD degree with Tampere University, Finland. http://www.a-wear.eu/recruitment/ESR6.pdf
ESR7. Urban Mobility: balancing usefulness and privacy. Employer: Universitat Jaume I, Spain. Joint PhD degree with Brno University of Technology, Czech Republic. http://www.a-wear.eu/recruitment/ESR7.pdf
ESR8. Centimeter level accuracy for IoT localization of wearable devices. Employer: University "Politehnica" of Bucharest, Romania. Double PhD degree with Tampere University, Finland. http://www.a-wear.eu/recruitment/ESR8.pdf
ESR9. Industrial wearables for work safety. Employer: University "Politehnica" of Bucharest, Romania. Double PhD degree with Brno University of Technology, Czech Republic. http://www.a-wear.eu/recruitment/ESR9.pdf
ESR10. Wearables for ehealth. University "Politehnica" of Bucharest, Romania. Double PhD degree with Universita Mediterranea di Reggio Calabria, Italy. http://www.a-wear.eu/recruitment/ESR10.pdf
ESR11. Low latency machine learning and data mining for wearable devices. Employer: Brno University of Technology, Czech Republic. Joint PhD degree with Tampere University, Finland. http://www.a-wear.eu/recruitment/ESR11.pdf
ESR12. Reliable and low-latency communication technologies for industrial wearable applications. Employer: Brno University of Technology, Czech Republic. Joint PhD degree with Tampere University, Finland. http://www.a-wear.eu/recruitment/ESR12.pdf
ESR13. Privacy-enhancing technologies and privacy-enhancing cryptography for wearables. Employer: Brno University of Technology, Czech Republic. Joint PhD degree with Universitat Jaume I, Spain. http://www.a-wear.eu/recruitment/ESR13.pdf
ESR14. Social-aware discovery and data exchange among IoT devices over Edge Computing platforms. Employer: Universita Mediterranea di Reggio Calabria, Italy. Double PhD degree with Tampere University, Finland. http://www.a-wear.eu/recruitment/ESR14.pdf
ESR15. New Architecture, communication and networking protocols for supporting 5G-IoT wearable devices connectivity. Employer: Universita Mediterranea di Reggio Calabria, Italy. Double PhD degree with with Universitat Jaume I, Spain. http://www.a-wear.eu/recruitment/ESR15.pdf
Posted by geoadmin
On 9 January, 2019
0 Comments