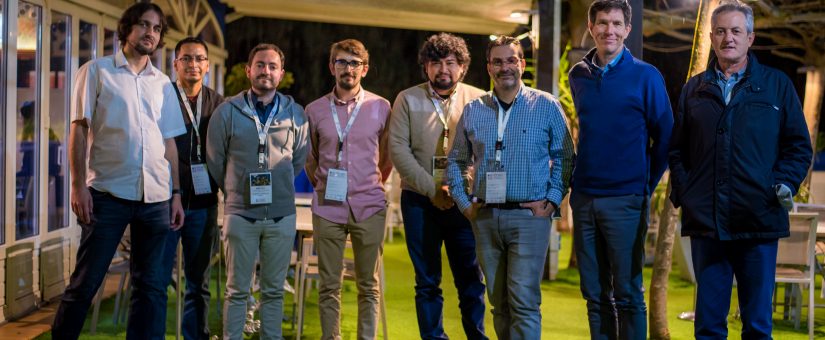 The Eleventh International Conference on Indoor Positioning and Indoor Navigation 2021 (IPIN 2021) took place at the Evenia Hotel in Lloret de Mar between November 28 and December 2. The most important conference of indoor positioning arrived after two years without any presential meeting for the positioning community. As usual, in parallel to the conference, there was a competition that this year only took place in off-site mode due to the pandemic. As a novelty, however, the competition featured a new evaluation framework to ensure quasi-real-time assessment and evaluation. Several team-building activities were organized to promote informal interactions between the attendees.
It was undoubtedly a hybrid event marked by the pandemic, with 114 people attending in person and 85 online. GEOTEC and UBIK had a remarkable presence at the conference with 9 people attending IPIN 2021 in person, giving a Tutorial on Monday, the Tuesday Keynote speech and a total of 11 papers (see below) presented in the thematic sessions, besides the GEOTEC's & UBIK's member J. Torres-Sospedra was conference co-chair and competition co-chair. GEOTEC staff, with no doubt, contributed notably to the success of the IPIN 2021 conference!
All this has led to an update of the advances in indoor positioning and navigation, but also to gather this community for discussion and networking after two years as IPIN 2020 in Beijing was cancelled due to the pandemic situation.
Here's below the list of IPIN2021 paper co-authered by GEOTEC members
Rodriguez-Martinez, C.; Torres-Sospedra, J.; Revisiting the Analysis of Hyperparameters in k-NN for Wi-Fi and BLE Fingerprinting: Current Status and General Results.
Silva, I.; Pendão, C.; Torres-Sospedra, J.; Moreira, A.; Quantifying the Degradation of Radio Maps in Wi-Fi Fingerprinting.
Pendão, C.; Silva, I.; Moreira, A.; Torres-Sospedra, J.; Dioptra – A Data Generation Application for Indoor Positioning Systems.
Bellavista-Parent, V.; Torres-Sospedra, J.; Perez-Navarro, A.; New trends in indoor positioning based on WiFi and machine learning: A systematic review.
Quezada-Gaibor, D.; Torres-Sospedra, J.; Nurmi, J.; Koucheryavy, Y.; Huerta, J.; Lightweight Wi-Fi Fingerprinting with a Novel RSS Clustering Algorithm.
de Brouwer, R.; Torres-Sospedra, J.; Trilles, S.; Berkvens, R.; Optimal Receivers Location for Passive Indoor Positioning based on BLE WiP.
Aranda-Polo, F. J.; Parralejo, F.; Aguilera, T.; Benítez, Álvarez-Franco, F. J.; Torres-Sospedra, J.; Finding Optimal BLE Configuration for Indoor Positioning with Consumption Restrictions.
Klus, R.; Klus, L.; Talvitie, J.; Pihlajasalo, J.; Torres-Sospedra, J.; Valkama, M.; Transfer Learning for Convolutional Indoor Positioning Systems.
Torres-Sospedra, J.; Silva, I.; Klus, L.; Quezada-Gaibor, D.; Crivello, A.; Barsocchi, P.; Pendão, C.; Lohan, S.; Nurmi, J.; Moreira, A.; Towards Ubiquitous Indoor Positioning: Comparing Systems across Heterogeneous Datasets.
Jurado, E.; Trilles, S.; Perez-Navarro, A.; Torres-Sospedra, J.; A low-cost control occupancy solution using a Time-of-Flight ranging sensor laser WiP.
Jimenez, A.; Miranda, I.; García, J. J.; Torres-Sospedra, J.; Lluva-Plaza, S.; Gualda-Gómez, D.; Affinity Propagation Clustering for Older Adults Daily Routine Estimation.
Posted by geoadmin
On 20 December, 2021
0 Comments