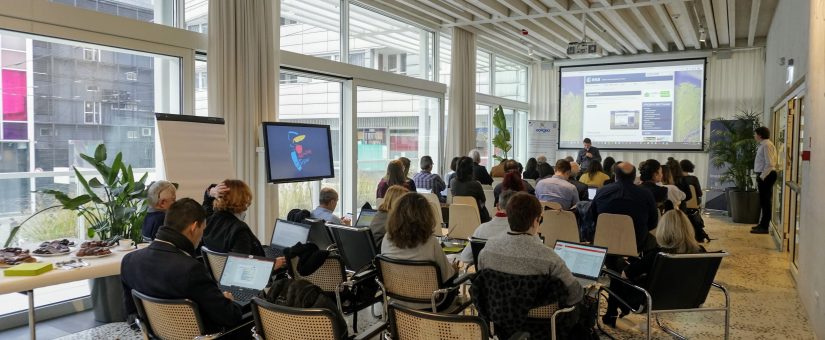 Last week EO4GEO partners met in Warsaw to attend some workshops and the 4th project meeting. EO4GEO is about to enter in its 3rd year, and we are now at the core of the project.
26 November the joint event "Data for good" brought togheter EO4GEO partners, UN-GGIM, UNEP-GRIDs  and  the City of Warsaw in the magnifient Palace of Culture and Science, at the very heart of Warsaw. Speakers provided global, European, and local perspectives about how data could contribute to development and sustainability. The role of data for better policy-making at multiple levels was also pinpointed.
27 November, during EO4GEO workshop "Desing of EO and related curricula" participants directly played with the tools under development. In particular, Living Text Book – the tool for creating, editing and updating the EO4GEO Body of Knowledge – was intensively used and tested. During the workshop interactions of different Work Packages started to glimpse, which is good news when you are in a project with lots of partners and several tasks running in paralell. I am particularly happy to (finally) have a name for GI/EO Body of Knowledge: EO4GEO BoK. This name was democratically vote delected after a fierce campaign 😉
27 and 28 November project meeting took place. Different on-going tasks were presented, being WP4 about "Design and development of curricula in support of Copernicus" of particular relevance. From geotecUJI, Sven Casteleyn presented the state of the innovative toolset we are developing. It's fair to to say that the work done during the last months was positively received by EO4GEO partners. Fruitful discussions in the intersection of tasks and work packages pop up again, agreements were made and new tasks were planned. A lot of work to be done before the next workshop and project meeting to be hosted by GEOF in Zagreb, Croatia.
Posted by geoadmin
On 5 December, 2019
0 Comments