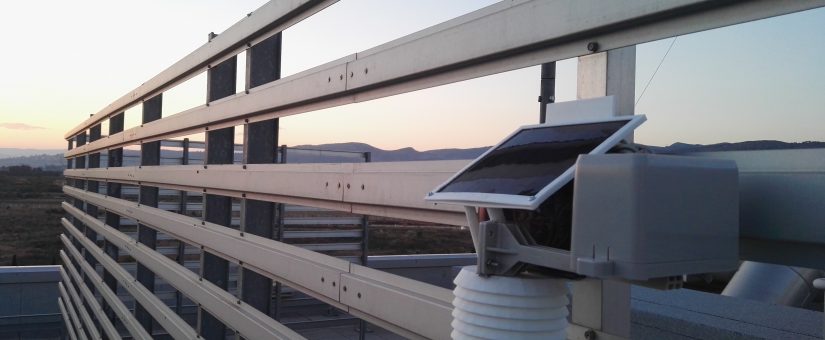 The research group Geospatial Technologies from the Universitat Jaume I has developed a platform for monitoring the environment capable of measuring any type of quantifiable variable through the use of sensors. It is applicable in fields such as intelligent agriculture, industry 4.0 or the management of smart cities.
The platform enables to measure both meteorological variables, like temperature, humidity or precipitation; and air quality parameters such as gases, suspended particulate matter or noise. The main differences with respect to other sensor platforms are its modular design, which allows to easily integrate new sensors; energy autonomy; the low cost of its components and interoperability.
SEnviro (Sense our Environment) consists of two subproducts: a sensor node capable of measuring any type of variable autonomously, with different connectivity options and a web platform (in development) capable of managing the different nodes and providing an added value. The platform allows the integration and visualization of data through a control panel that facilitates, by applying big data techniques, the analysis of large amounts of data in reduced form and in real time, thus offering a comprehensible and useful image for the final user.
The technology of the control panel is able to react following certain automatic or manual patterns, in order to alert when there are conditions established by the user or that require his/her attention. Therefore, each node adapts itself to the different states in which it has been installed and varies its behaviour for a particular state, while performing actions automatically, such as activating the irrigation of a farm or limiting vehicle traffic when there is a high level of pollution.
The main advantages of this tool are its low cost, the use of free software and hardware (which favours compatibility and reuse), the autonomy of the nodes (energy and connectivity), the open standards on which it is based and the fact that it can be a modular application (it can be adapted to any field or company by adding new functionalities). "Another of its most outstanding characteristics," explains researchers Joaquín Huerta and Sergio Trilles, "is interoperability, since it provides standard interfaces that increase its integration and facilitate access to the data that it generates."
SEnviro follows the paradigms of the Internet of Things, big data and cloud computing. The technology is useful for precision agriculture and crop monitoring, the environmental control of smart cities and the monitoring of industrial environments. The platform represents the first integral solution since it offers both sensor nodes and the analysis of the data obtained.
The proof of concept has been deployed in the same Universitat Jaume I because it had characteristics that identified it with a small-scale city. The platform has made it possible to measure the environmental quality of the campus. The data obtained has been sent through the Wi-Fi on campus to the central server.
Posted by geoadmin
On 12 January, 2017
0 Comments