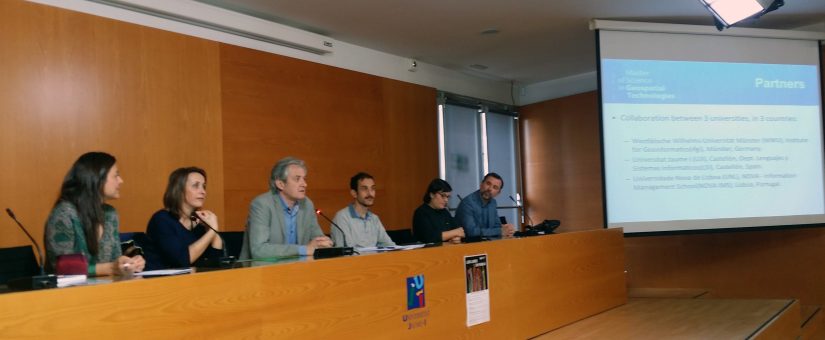 In the context of the 1st Staff Training Week Erasmus+ organized by Universitat Jaume I from April 23rd till 27th, 2018, GEOTEC presented our Erasmus Mundus Master's Program in Geospatial Technologies,  Joaquín Huerta , GEOTEC's coordinator and PI of  EM Master in Geospatial Technologies at UJI shared with the audience the remarkable features of this Master.
Amongst others, Professor Huerta highlighted five ideas that make our Master so attractive:
the intensive collaboration established between three european universities UNL (Lisbon, Portugal), WWU (Münster, Germany) and UJI (Castellón, Spain),
to be the first joint master degree in Spain
to be have a long existence, being in its 11th edition
to have more than 200 graduated students, coming from 63 different countries
to be ranked several times amongst the best masters in technology in Spain (2017 El Mundo ranking, 2nd place)
Applications for self-payed students to Geospatial Technologies Master are now open un til July 15th 2018.
Some attendants to the 1st Staff Training Week Erasmus+ also visited GEOTEC's premises in order to get first-hand information about the research we perform.
Posted by geoadmin
On 26 April, 2018
0 Comments